| | |
| --- | --- |
| Title | ファーストフードが好き? |
| Unit/Lesson No. | Food and lifestyle/Lesson 1 |
| Topic | Food |
| Function | Explain, ask questions |
| Focus | Develop schemata about fast food |
I. BACKGROUND INFORMATION FOR TEACHERS
Purpose of This Lesson
Students will reflect on their preference about fast food, and also survey classmates' preferences. Finally, students will think about the pros and cons about fast food.
Teacher Instructions
Before class, prepare the handout and transparency.


Distribute Handout 1 and explain the first part of the activity (instruction a) showing Transparency 1. In this activity, students will conduct a mini-survey about fast food. On the transparency, write down your own answers as a demonstration.


First, have students write down their own answers on the handout. When everybody is ready, explain the second part of the activity (instruction b) and ask one student a question as demonstration. Then, have students begin the survey.


After the survey, have students present to the class. Then, ask the whole class to summarize how fast food is related to the students' daily lives.


Have students form groups of three. Distribute Handout 2 to each group. Explain the activity showing Transparency 2.


Have students brain-storm good and bad points about fast food. They should write down their ideas on the handout.


Have each group present their ideas and discuss the pros and cons about fast food as a whole class.
Suggestions
If Handout 2 can be printed out on transparencies, students can present their ideas while showing transparencies.
Notes
Visual resources:
http://office.microsoft.com/clipart/
http://www.clipart.com
II. STUDENT ACTIVITY HANDOUTS
Handout 1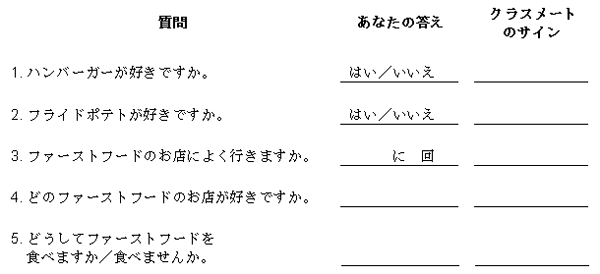 Handout 2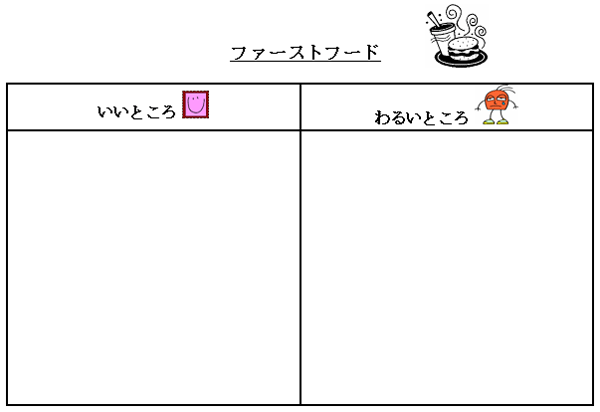 III. VISUAL AIDS FOR TEACHERS
Transparency 1
a. First, read the following questions and then write your own answers in the column 'あなたの答え'.
b. When your teacher says 'はじめてください', try to find classmates who have the same preferences as you. When you find a classmate who has the same answer as yours, have him/her write his/her name in the column 'クラスメートのサイン'.
You may not have the same student's signature more than once.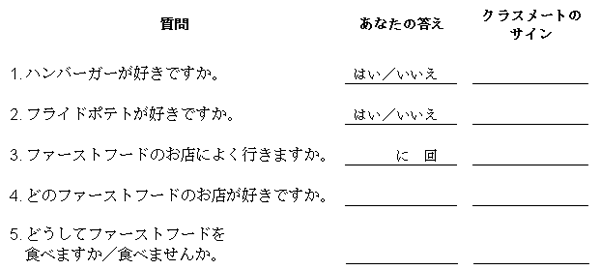 Transparency 2
same as Handout 1