| | |
| --- | --- |
| Title | ファイナルプロジェクト |
| Unit/Lesson No. | Food and lifestyle/Lesson 13 |
| Topic | Food and adaptation |
| Function | Explain |
| Focus | Final project on how other food items are adapted in a different culture |
I. BACKGROUND INFORMATION FOR TEACHERS
Purpose of This Lesson
Students will learn how other food items have been or will be introduced and adapted in the other cultures (U.S. food in Japan or Japanese food in the U.S.). Students will present to the class to share their findings and predictions with other students.
Teacher Instructions
Before class, prepare the handout and the transparency.


Review with the entire class what was learned in this unit using Script 1.


Have students form groups of three for the final project. Distribute Handout 1 and explain the project using Transparency 1.


Distribute Handout 2 and explain the presentation date/time and scoring guide using Transparency 2. Have each group discuss in class what food item they will use for their presentations. Make sure that each group presents on different food items.


On the presentation day, have each group present their project to the entire class. Collect students' scoring guide with their names on it. Evaluate their projects. At the end of the class, discuss and summarize the findings from students' projects.
Teacher Presentation Sample Scripts
Script 1
今まで、ファーストフードとすしのことを勉強してきましたね。
今、日本にはどんなファーストフードのお店がありますか。(マクドナルド、KFC、etc.)
そうですね。アメリカから日本にいつごろ来ましたか。(1970年ごろ)
それから、日本でどのように変わりましたか。(メニュー、カーネル・サンダースのマネキン、イメージ、etc.)
では、すしはいつごろ日本からアメリカに来ましたか。(1970年ごろ)
そうですね、ファーストフードと同じごろですね。すしは、アメリカでどのように変わりましたか。(材料、裏巻き、イメージ、etc.)
そうですね。他にも変わったものがありますか。これからアメリカや日本に新しく入ってきて、変わっていくものは何でしょうか。
Suggestions
1. If students do not know what food items on which to work, provide some possible ideas.
| | |
| --- | --- |
| Japan US | 抹茶、とうふ、みそ、なっとう、だいこん、お好み焼き、ラーメン、うどん、そば、やきとり、おでん |
2. After the presentations, display the projects on the wall or post them on the web site if a class web site is available.
Notes
Useful web sites:
II. STUDENT ACTIVITY HANDOUTS
Handout 1
ファイナルプロジェクト:どうなった?どうなる?
In groups of three, you will work on a final project and make a presentation in class later.
Instruction for Final Project
Pick one food item from the U.S. or Japan that may be introduced and adapted in the other culture.


Investigate how the item has been used in the original culture.


Investigate how much the item is known of in the other culture now.


Speculate how the item will be adapted and become popular. Be sure to provide reasons for your speculation. (ex. healthy, inexpensive, etc.)


Speculate what kind of people or generations, the location, and when the food item will become popular. Be sure to provide reasons for your speculation. (ex. young vegetarians, fashionable)


Add any other information based on what you have learned in this unit.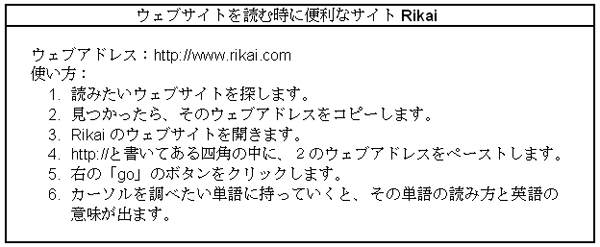 Handout 2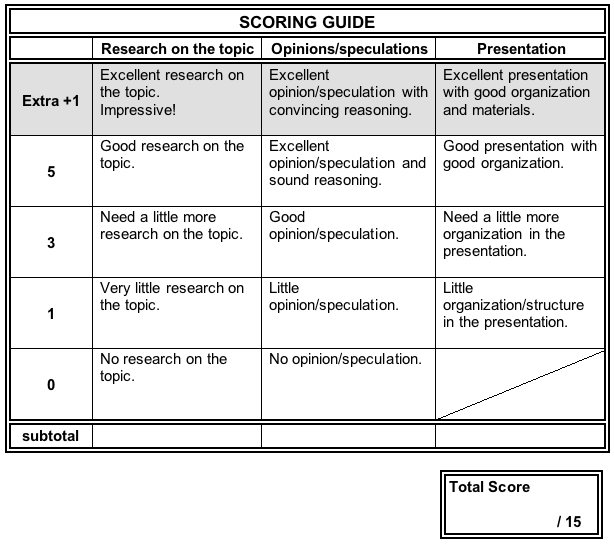 III. VISUAL AIDS FOR TEACHERS
Transparency 1
same as Handout 1
Transparency 2
same as Handout 2