| | |
| --- | --- |
| Title | 日本のファーストフードプロジェクト |
| Unit/Lesson No. | Food and lifestyle/Lesson 6 |
| Topic | Fast food |
| Function | Explain, express opinions |
| Focus | Research project on Japanese fast food |
I. BACKGROUND INFORMATION FOR TEACHERS
Purpose of This Lesson
Students will work on research projects in groups on other Japanese fast food to deepen the understanding of the relationships between the adaptation of fast food and the Japanese lifestyle. One fast food restaurant will be assigned to each group. Students will present in class, and the projects can be posted on the wall or added to the class web site if one is available.
Teacher Instructions
Before class, prepare the handout and transparency.


Distribute Handout 1 to students. Explain the project using Transparency 1.


Have students form groups of three or four for the project. Assign one fast food restaurant from the list to each group. Distribute Handout 2. Inform students about the timeframe for the project and the presentation length according to your class schedule. Have students take notes on the handout. (Allow students at least one week for preparation before their presentations).


Introduce the useful web site called Rikai.com. This site will be helpful if the teacher can demonstrate how to use the site on the computer.


On the presentation day, have each group present their project to the entire class. At the end of the class, discuss and summarize the findings from students' projects.
Suggestions
After the presentation, put the projects on the wall or post them on the web site if a class web site is available.
Notes
Visual resources:
http://office.microsoft.com/clipart
Useful web sites:
http://www.rikai.com (Rikai)
http://www.nihon-wendies.co.jp (ウェンディーズ)
http://www.mos.co.jp (モスバーガー)
http://www.subway.co.jp (サブウェイ)
http://www.31ice.co.jp  (サーティーワンアイスクリーム)
http://www.pizzahut.jp  (ピザハット)
http://www.dennys.co.jp (デニーズ)
http://www.misterdonut.jp (ミスタードーナツ)
II. STUDENT ACTIVITY HANDOUTS
Handout 1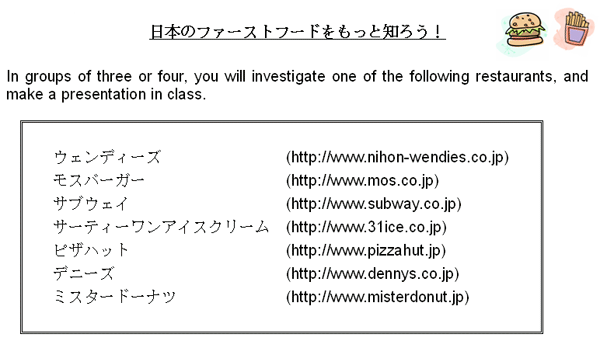 Handout 2

III. VISUAL AIDS FOR TEACHERS
Transparency 1
same as Handout 1