| | |
| --- | --- |
| Title | すしクイズ |
| Unit/Lesson No. | Food and lifestyle/Lesson 8 |
| Topic | Japanese food: Sushi |
| Function | Association, express experience |
| Focus | Gain knowledge about sushi and learn about various kinds of sushi |
I. BACKGROUND INFORMATION FOR TEACHERS
Purpose of This Lesson
Students will learn that there are many more sushi types than they realize. Students will also learn fascinating facts about sushi through fun quizzes.
Teacher Instructions
Before class, prepare the transparency.


Ask students about their experiences with sushi using Script 1.


Show Transparency 1 and explain that the food items on the transparency are all different kinds of sushi. Then explain the corresponding activity. Have students form groups of three to work on the activity.


Confirm the answers with the entire class. Have students notice how Japanese compound words are formed (ex. Te-maki-zushi = hand-roll-sushi). Introduce other kinds of sushi such as inari-zushi.


Show Transparency 2 and explain the activity. Have students work in groups of three. Use the first question for practice, and be sure that all the students understand the rules. Begin the activity by reading the second question to the students.


Confirm answers and have each group present how many questions they answered correctly. Show Transparency 3 for おたく度 check. If possible, distribute a prize to the group that answered the most questions correctly.
Teacher Presentation Sample Scripts
Script 1
みなさん、すしを食べたことがありますか。(はい、あります。)
どんなすしを食べましたか。(ex. カリフォルニアロール、にぎり)
どこで食べましたか。(ex. レストランで、スーパーで買った、etc.)
すしを作ったことがある人はいますか。(はい)
何を作りましたか。どこで作りましたか。(ex. 手巻き寿司、友達の家で)
どうでしたか。(ex. むずかしかったです。)
みなさんは、手巻き寿司とにぎり寿司のほかに、どんなすしを知っていますか。(ex. 知りません。)
では、これを見て下さい。[show Transparency 1 and explain that there are all different kinds of sushi]
Answer Key to Student Activities
| | | | | | | | | | |
| --- | --- | --- | --- | --- | --- | --- | --- | --- | --- |
| 1. | a. ア | b. ォ | c. エ | d. ィ | e. ウ | | | | |
| 2. | QA. 3 | QB. 3 | QC. 2 | QD. `3 | QE. 1 | QF. 3 | QG. 3 | QH. 1 | QI. 1 |
Notes
Visual resources:
Useful web sites:
http://www.eatsushi.com (Sushi Guide)
III. VISUAL AIDS FOR TEACHERS
Transparency 1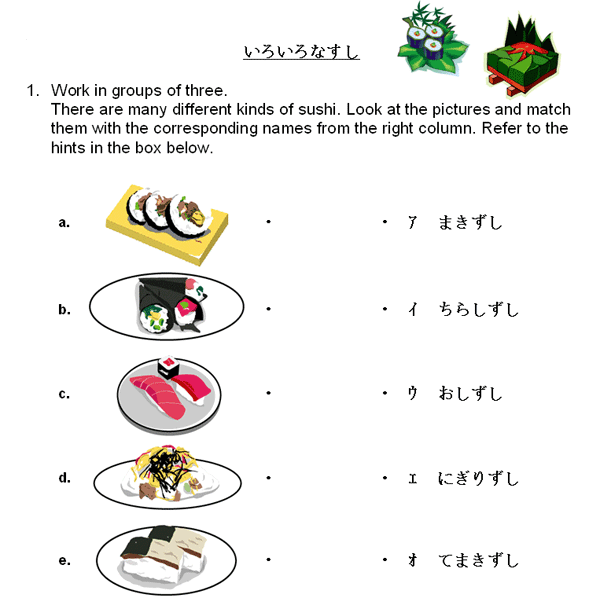 <ヒント>
まく = to roll ちらす = to scatter おす = to push
にぎる = to take firm hold
Transparency 2
Transparency 3