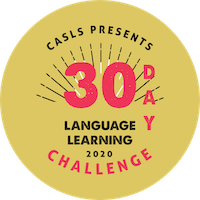 30-Day Challenge
Download the 30-day Challenge Calendar
Engaging students in language learning throughout the day is even more imperative in remote and hybrid learning environments. Our 30-day language challenge is designed to provide students with activities to complete each day and encourage them to use the target language consistently. Students who complete the challenge will be rewarded with a limited edition enamel keychain custom printed with their completion badge.
Students can download the 30-day language challenge calendar, complete the activities each day, and submit their completion using the form below.
The challenge must be completed by December 31, 2020 to claim the keychain badge.
Submit Your Completed Challenge
Submit your 30-Day Challenge and information below. You can submit any of the following:
A copy of the 30-day challenge calendar with initials and date completed
A photo collage of some (or all) of the work you have done as part of the challenge
A screen shot of a digital space where you saved your work